Do you really have the time to dealing directly with the various media vendors and measure the effectiveness of an advertising campaign? If you are faced with some of these situations, maybe it's time for you to consider hiring a marketing agency to help with your ads:
You're simply overwhelmed by the myriad details inherent in producing and placing your advertising.
You no longer have the time, or the energy, to write and produce your advertising yourself.
Phone calls from media sales reps and review the proposals and information they sent are taking up too much of your time.
You're starting notice that your media vendors don't have the time for your campaign, they are not putting attention on your schedule times and your radio and tv spots are running overnights or, in the worst scenery, many of that spots hasn't run because the stations and channels bumped your ads as soon as they have new client who is paying more (because your media vendors don't explain you that many of your spots on the proposal are free and free spots are preemtable, based on available inventory and not subject to make goods)
Creating and placing your advertising on a regular basis has become a job in itself. Your credit card has been charging for months already and your ads are not having the response that you expected.
Your own creative efforts aren't yielding the results you desire.
You don't know whether you're spending your advertising budget as wisely as you could be.
You're eager to have creative professionals generate fresh, new ideas for your advertising.
You want to put a team of highly trained specialists to work, with the common goal of growing your business.
As your business grows, you'll eventually need to think about how the marketing will be handled. It can be a tough and often confusing decision-hire a marketing agency or an in-house marketing employee? How much do you think it would cost to hire a qualified marketing employee vs. hiring a Marketing Agency?
Let's take a closer look and see what really happens when you compare the two: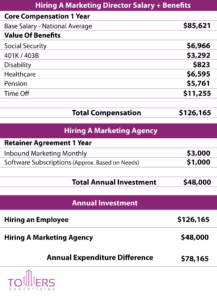 In comparison, hiring in-house means you're out a salary and overhead, which is especially inefficient if you're looking at a short-term marketing campaign. The only thing that's worse? Making a bad hire, which can be an expensive mistake.
Marketing is a broad term that covers a range of services from advertising and promotion to social media and customer service, and marketing agencies exist to help you achieve your goals and help your business thrive. After all, if you're putting the energy, effort, and money into being the best at what you do, don't you want to hire someone who is the best at what they do in an effort to help your business succeed?
You may wonder if hiring a marketing agency is within your budget? Can a marketing agency help your business make your advertisements more effective? These are relevant questions and concerns, and at the end of the day you have to make the decision that is best for you and your business.
Before you rush into anything check out couple benefits of hiring a marketing agency, especially if you are a small business owner:
1. You will save a lot of time and money while improving your ROI 
Why you should hire a Marketing Agency instead of dealing directly with the various media vendors? Business owners often claim that by "going direct", they save money in agency fees and can stretch their advertising dollars further. While this might make sense on paper, in reality, there are significant inefficiencies and indirect costs associated with "going direct"…
a) A Marketing Agency Can Negotiate Lower Media Rates
Agencies regularly buys media, media reps are under pressure from their management to keep their business. Since an agency can choose from ALL the stations that market to the desired target audience, they are free to choose the station that gives them the best deal. Competition between stations means lower advertising rates. As a result, agencies often pay less direct retail clients. There are some exceptions to this, but as a general rule this is true. (NOTE: the retail sales reps and their managers will almost ALWAYS tell you that this is a lie… In my experience on both the media side and the agency side, it's absolutely true.)
b) Agencies Are Not Under Pressure to Sell You a Specific Kind of Media
Radio, TV, Print and Internet Marketing reps are under pressure to sell you whether their product is good for your business or not. Once or twice a year, most media outlets have a "fire sale" where they sell specific advertising packages at discounted rates. There is tremendous pressure on the station account execs to sell as many of the packages as humanly possible. While some of these packages are actually good deals, the advertising agency is not forced to use them if they don't make sense for the client. Again, the agency's motive is the client's success, not winning the sales contest.
c) Agencies Only Succeed if You Succeed
Station reps make their commissions based on the sale. While keeping a business as a customer is easier than getting a new customer, sales reps are constantly pressured to get new customers and sell new packages, no matter how many companies have already purchased from them. Most media reps are rewarded for how much NEW business they're able to bring in. There is less incentive for a sales rep to grow their current customers. As a result, there is massive turnover in direct media clients. The opposite is true for the marketing agency. Of course agencies like to get new customers. However, marketing agencies are considered more successful when they show success in growing their current clients' businesses. When companies keep their marketing agencies around and are happy with their performance, agencies are very happy.
d) You will be able to invest more time in other areas of your business.
Namely, your current employees. When a company attempts to avoid working with a marketing agency or making an in-house hire they typically start relying on other employees to help fill in the gaps. Marketing tasks like new product campaign, social media or SEO should be left to the pros, not your cashier or recepcionist with a Snapchat, Instagram or Facebook addiction. Not only will your marketing lack in an obvious way to potential customers, but your employees' actual job will suffer from the distraction. Instead, empower your current employees to excel at their current role and work toward improvements, successes, and achieving their own goals within your company.
Outsourcing to a Marketing Agency is a huge money saver. When you begin working with an agency you will discuss your businesses needs and goals, right alongside your budget. In the end, your contract will be a fixed cost and you'll know exactly what you're spending before you sign on. Letting them handle your marketing budget will give you more time to focus on the key areas of your business. A marketing agency can analyze the results of the campaign strategies so that you can handle more pressing business matters.
2. You'll be working with an experienced team of professionals.
Marketing is a deceivingly broad term, as we discussed above, and when you're working with a marketing agency you will have access to graphic artists, social media experts, sound designers, copywriters, and more, depending on your needs. All of these people are skilled, passionate professionals who strive to deliver quality work to their clients, just like you do for yours. Finding those people is a task in and of itself, but trying to find such an expansive skill set rolled in to an in-house hire? It's just not going to happen.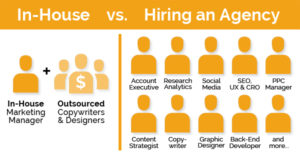 3. Perspective of a fresh eyes.
Why do you shoulder check when you are driving? Because you cannot see in 360 degrees. It would be great if you could, but it is not realistic. We shoulder check and look in our mirrors to avoid hitting something, or someone, in our blind spots. Working with a team offers a fresh new perspective, can bring change, and elevate your business. It is the peripheral vision that will help you to make the most of your business.
4. Measurable results.
It's essential to seeing how your investments of time and money in your marketing strategy are working. Measuring and tracking your advertising campaigns allows you to find out which of your marketing strategies are turning directly into results, and proves how successful advertising dollars are being spent.
Your should be looking a Marketing ROI report at least every two months, whit these specifications:
Cost of campaign
Cost per call/click
Cost per lead
Cost per client
Number of sales
Number of actions
RERUN ON AD SPEND
A Marketing Agency should always be able to measure the return on investment with any campaign. At Look, we start with goals and define a way to measure them before we begin. The metrics we provide demonstrate the effectiveness of your marketing platform to better understand your audience and the direction to take to get you the outcomes you are looking for. You might not know how to measure the success of your website, or of your radio and TV campaign, but a Marketing Agency is determined to measure and improve it the results. Marketing Agencies have myriad ways to measure and track your advertising campaigns, making sure that your marketing campaign is well received in your market audience and your investment is generating profits.
6. Your marketing efforts will stay on trend.
Marketing agencies stay in the loop. If it's trending in the marketing world, they know about it. If it's something than can influence your marketing in a positive way and achieve results, they will be the first to share that information with you. They can also keep you up-to-date in other areas. Much like trends, marketers are constantly bombarded with new technology. When new products or software become available they can explore and determine if there is a necessity; will it serve a purpose for their business. When these technologies become part of their business, they also become part of yours. After all, you have enough to handle, there is no reason to put the pressure on yourself to stay up-to-date on the marketing advances, trends, and changes. Leave it to your team.
8. A Secure Future
Apart from anything else, a marketing agency can give your company a visual facelift. Why not use their services to refresh your business cards, marketing materials, and company logo? Whatever your short-term or long-term requirements, if you're unsure how an advertising agency can help your business, just make some enquiries. Why not ask how they can help your business grow in the next year, for example? It could be more affordable than you think.
Marketing sounds like such a simple word, but it's not. Whether you're combining several marketing strategies for an overall campaign or you're looking for a complete overhaul on your branding, an agency can handle it will speed and resilience. The stress of what could be a major undertaking is removed from your plate and allows you to breath easier, and gives you the ability to become more focused and productive in other areas.
Working with a Marketing Agency could be one of the most cost-effective marketing strategies. If you decide to hire an agency, remember to trust their judgments. After all, they've probably been working in the advertising sector for years. Give them as much information as you can about your company, services, products, and customer base. Why not consider working with an advertising agency for your next marketing campaign? A new strategy could dramatically improve brand awareness, increase sales leads, improve actual sales, and establish a healthy working relationship that helps your business succeed now and in the future.
You don't need an advertising budget in the millions to seek out the services of an ad agency. Many local agencies provide you with all the services offered by the major agencies, but they're scaled down to fit within your budget and your advertising requirements.