New Gogle Algorithm Mobilegeddon: get mobile friendly or Google penalty hits!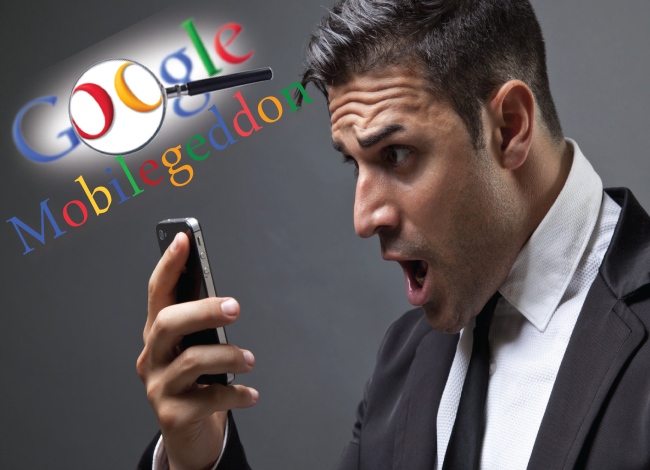 #TimeToAdapt
The search giant Google has announced that they are currently working on a major algorithm change that will revolutionize the way mobile friendliness is determined. The new algorithm "Mobilegeddon" will become a significantly stronger ranking signal. If your website is not mobile optimized by that time, you risk losing rankings in the search results.
Mobilegeddon, is the term coined for the day your website's mobile-friendliness starts to matter on Google. The search engine algorithm change has two primary goals: 1) Increase the number of mobile-friendly websites that deliver better mobile search results. 2)  Add relevant app content to search.
Over 60% of all Google search queries originate on mobile devices, and we are already seeing mobile websites outranking their non-responsive counterparts.
Prepare Your Website for Mobilegeddon
While Mobilegeddon will diminish many website's search rankings, it does not have to harm your place in Google Dom. Those businesses prepared with a mobile-friendly website may even see a boost in rankings.
Keep in mind that—in the search engine's eyes—your website is either mobile-friendly or it is not. Luckily, Google has developed a helpful tool for evaluating your website's mobile friendliness. Give it a trial run and see if your website passes the Google test.
Some of the top errors websites receive include:
Blocked JavaScript
Faulty redirects
Unplayable content
App download interstitial
Irrelevant cross-links
Slow mobile pages
Mobile-only 404s
Blocked CSS and image files
After testing your website, review Google Analytics to determine how the majority of visitors engage with your website. If you find that an overwhelming number of website visitors are coming from mobile devices, you need to act immediately to avoid losing valuable traffic.
If, on the other hand, you find that very little traffic comes from mobile, you can extend the timeline for mobile-friendly implementation. Don't wait too long though. Mobile internet usage is projected to grow thirteen-fold by 2017.
If your website is not optimized for mobile, mobile-friendly yet, we recommend contacting your web developer as soon as possible to make the necessary improvements . #TimeToAdapt